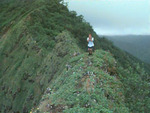 Dangerous Hawaii Hiking: The Pu'u Manamana Trail
Recommended for Advanced Hikers Only
Pu'u Manamana is one of the most dangerous hiking trails on the island of Oahu in Hawaii. Known for its spectacular yet perilous narrow ridge sections, Manamana is legendary and revered among
Hawaii
hikers.
Have
Hawaii
hikers died here? Yes, they have. While I don't have any hard, firm stats, I do know that more than one person has met his end while hiking this trail.
Dangerous Hawaii Hiking: The Pu'u Manamana Trail
So be careful. Be very, very careful.
In fact, I recommend that only the most seasoned and sure-footed hikers attempt the Pu'u Manamana trail. While the whole hike is just 4 miles, there is over 2000 feet of elevation gain with a very steep initial ascent and very steep final descent, and those legendary narrow ridge sections sandwiched between.
If you are thinking of hiking Manamana, consider hiking with and then joining the
Hawaiian Trail and Mountain Club
(HTMC), which has this trail on its annual schedule of outings. Note that when the club conducts this hike, it is for members only. And it is rated "Advanced."
Having hiked Manamana several times over the years, I can vouch for the advanced rating. I can also testify to the fact that on my first attempt, I turned back, being unwilling to put my life on the line at that time. But I did return. And I did so with the HTMC. And I made it that second time, and several times thereafter.
How To Get There
You'll travel 25 miles on the drive from downtown Honolulu. Take the Pali Highway to get to the windward side of Oahu. Once you are through the Pali Tunnels, descend downhill, turning left on Kamehameha Hwy. About 2.5 miles later, turn left onto Likelike Highway. Turn right onto Kahekili Hwy. which after 4.5 miles transitions to Kamehameha Highway (key landmarks there are a 7-11 store on the right and the Hygienic Store on the left. Continue on Kamehameha Hwy. for just short of 10 miles. Not long after passing the Crouching Lion Inn on the left and just before a bridge is Trout Farm Road on the left. Turn onto Trout Farm Road and find parking along the street there.

Written by
Dayle Turner
Born and raised in Hawaii, Dayle Turner is a stepfather of four, a husband of one, and a writer of mostly outdoor-related stuff. He has taught writing at a community college for 17 years an...
-
Full profile
Related information

Last Minute Travel Deals
Deals in Hawaii